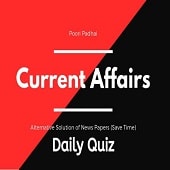 Poori Padhai Daily Current Affairs Quiz is just like a daily tonic that is going to cure your daily dose of current affairs so that you can fight with the General Knowledge questions which will come up in your government or non-government examinations. These quizzes will help you to get prepared daily so that there will not be a huge burden of general awareness questions on the last date. It also helps you to assess yourself and prepare accordingly. Generally, many aspirants are very serious about their goal but lack in the mode of preparation which plays a very major role in cracking the examination. So we bring to you the ultimate solution for cracking your examination with ease. Current Affairs Quizzes are meant for the people who want to be very thorough with the global affairs which are a vital part of any competitive examination.
Give Current Affairs Online test frequently to boost your knowledge on this aspect. Free Daily Quiz, an alternative Solution of News Paper, is a very effective way in self-assessment and preparation in accordance. Current affairs are very useful for Government Entrance Exams (CDS, CTET, IAS, IES(ESE), ISI, LIC AAO, NDA, RRB, SSC CGL, and TES), Bank Entrance Exams(IBPS-Clerk, IBPS-PO, RBI Assistant, RBI Grade B, SBI-Clerk and SBI-PO), UPSC/IAS Preparation, Railway, State PCS etc.
Hence, people preparing for these exams need to be updated on every small thing going on around the planet earth. Poori Padhai has come up with an excellent material which would assist you in effective preparation.
Poori Padhai Current Affairs Quiz will help you crack any competitive exam easily. Without missing a single detail, every little thing is made available in these Current Affairs Questions and Answers pdf. For easy understanding of aspirants, the material for Current Affairs quiz is made available both in English and Hindi which will be an additive advantage. Those who are not so well versed with English can go with the Hindi version first and then refer the English version which also helps to improve the English language skills of the individual.
Current affairs quizzes are made available every alternate day. So it is easy to access the material which is required. Current affairs questions and answers are segregated and customized according to the type of exam you're aspiring to crack. So one need not be worried about what to prepare and how to prepare for their respective examinations. Each type of examination has got its material for the preparation.
Quizzes are conducted periodically to test the level of proficiency of the individual. The duration of the quiz will be 10 minutes consisting of 10 questions. One can keep an eye on the time which is being taken to answer each question on an average and improve the speed henceforth. Also, the areas which need more concentration can be identified and given enough attention.