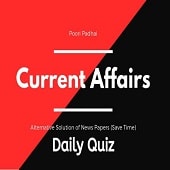 Poori Padhai Daily Current Affairs Quiz is just like a daily tonic that is going to cure your daily dose of current affairs so that you can fight with the General Knowledge questions which will come up in your government or non-government examinations. These quizzes will help you to get prepared daily so that there will not be a huge burden of general awareness questions on the last date. It also helps you to assess yourself and prepare accordingly. Generally, many aspirants are very serious about their goal but lack in the mode of preparation which plays a very major role in cracking the examination. So we bring to you the ultimate solution for cracking your examination with ease. Current Affairs Quizzes are meant for the people who want to be very thorough with the global affairs which are a vital part of any competitive examination.

Give Current Affairs Online test frequently to boost your knowledge on this aspect. Free Daily Quiz, an alternative Solution of News Paper, is a very effective way in self-assessment and preparation in accordance. Current affairs are very useful for Government Entrance Exams (CDS, CTET, IAS, IES(ESE), ISI, LIC AAO, NDA, RRB, SSC CGL, and TES), Bank Entrance Exams(IBPS-Clerk, IBPS-PO, RBI Assistant, RBI Grade B, SBI-Clerk and SBI-PO), UPSC/IAS Preparation, Railway, State PCS etc.
Hence, people preparing for these exams need to be updated on every small thing going on around the planet earth. Poori Padhai has come up with an excellent material which would assist you in effective preparation.
Poori Padhai Current Affairs Quiz will help you crack any competitive exam easily. Without missing a single detail, every little thing is made available in these Current Affairs Questions and Answers pdf. For easy understanding of aspirants, the material for Current Affairs quiz is made available both in English and Hindi which will be an additive advantage. Those who are not so well versed with English can go with the Hindi version first and then refer the English version which also helps to improve the English language skills of the individual.

---
Current affairs quizzes are made available every alternate day. So it is easy to access the material which is required. Current affairs questions and answers are segregated and customized according to the type of exam you're aspiring to crack. So one need not be worried about what to prepare and how to prepare for their respective examinations. Each type of examination has got its material for the preparation.
Quizzes are conducted periodically to test the level of proficiency of the individual. The duration of the quiz will be 10 minutes consisting of 10 questions. One can keep an eye on the time which is being taken to answer each question on an average and improve the speed henceforth. Also, the areas which need more concentration can be identified and given enough attention.
Enter your e-mail below and get notified on the latest daily current affairs quiz.
Quizzes based on Indian budget are also made available both in English and Hindi. These Indian Budget Quizzes help you get familiar with the Indian economy and the things going on with the budget system of India. Budget quizzes are for every year so you can see the quizzes for 2016 – 2017, 2017 – 2018, 2018 – 2019.
Indian Budget Quiz | 10 Minutes
Quizzes for kids are also available. This will help children to improve their general knowledge and laying a good foundation for a better future. Right from childhood, a child's brain must be carved in a certain way which will help in a successful future. These quizzes are the best way to enhance the child's knowledge and understanding capabilities. Also, it helps in improving the awareness about the ongoing things in the world right from a young age which is a good practice.
GK (General Knowledge) Current Affairs Daily Quiz is one of the best ways to clear most of the competitive exams and it also helps you to enhance your awareness on the national and international affairs. For those who are interested in keeping themselves updated regarding international and national affairs, this quiz is for you. This is the best-recommended solution.
Current Affairs Question and Answer Explanation
When you submit the current affairs quiz questions along with the answers, only then you will be able to view the explanation of each question. It helps us to know the actual knowledge behind the current affairs question. Current Affairs question explanation is the best source to get the real knowledge and it helps us to learn the current affairs at a faster pace. With these explanations, one can understand the actual scenario instead of blindly byhearting everything. The actual way of learning involves the interaction of heart and mind which is only possible when proper understanding exists. This type of learning is encouraged by Poori Padhai and so follows the same fashion. Every explanation gives the actual view of the current affairs quiz questions and answers. All the explanations of the current affairs questions can be downloaded in pdf format, from the starting page by clicking the Read More button. This will help in noticing the mistakes which are being committed and thereby rectify them.
Current Affairs Question and Answer Pdf
The current affairs quiz questions and answers pdf can be saved offline on our laptop, computer or any other devices like smartphones. This can be used at any time whenever we are offline. It is a very portable solution for all the students who want to get to know about current affairs. Whenever you find the time, you can easily access these so this is an optimized solution. You can download all the current affairs quiz question and answers of 2017, 2018, 2019 etc. or as per the required date and access the material. Also, the quizzes are according to the dates. So you can take it periodically and this will help you prevent the SINGLE NIGHT STUDIES. Poori Padhai current affair quizzes will help you learn systematically and also help you easily achieve your goals.
All the very best for the learning and enjoying the daily quiz, keep coming regularly and kindly share this useful resource with everyone. You can share the links with your acquaintances through Whatsapp, Facebook, Twitter, LinkedIn, Pinterest. Please share your valuable feedback in the comment section below and help us bring you more quality content.